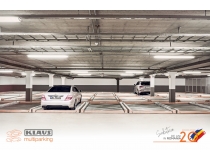 News
30.01.2020
Struggling for a parking spot
Finding a parking spot in the city has become an adventure and the number of cars increases day by day.
5 drivers are fighting for a parking spot in Bucharest in the context of the fact that 1.4 million cars are now officially registered in Bucharest. With a declared population of 1.8 million people, the figures show an approximate ratio of one car to one inhabitant.
Where can you park your car under these circumstances?
The solution lies in Klaus smart vertical parking.
The German company has a tradition of 20 years on the Romanian market. All this time it has implemented several methods that have been successfully tested in the Western European states.
Klaus intelligent parking successfully solves the situation of parking places in Bucharest, Timisoara, Constanta, Ploiesti, Pitesti and Iasi.